Worlds Champion speaks to 8th Grade Wrestling Club
The National Wrestling Alliance reaches out to the youth at Westside Middle School in Winder Georgia and invites eight graders to a future #NWAPOWERRR TV Taping
Dustin Davis, by day a middle school teacher in Winder Georgia, by night a fan of professional wrestling visited the Georgia Public Broadcasting Studios on September 30th and October 1st with a two-part mission. The easiest part was watching the National Wrestling Alliance return to Georgia for its television tapings, NWA POWERRR. Second, to make a connection.
Mr. Davis doesn't just teach at Westside Middle School, but he's also the ambassador of the schools Pro Wrestling Club. The PWC at WMS is a place for all kids on the campus to belong, who love pro-wrestling. The effort is to reach at-risk students through wrestling, hoping to influence the students to be better people, make better choices, and most importantly to stay in school.
The kids at WMS got a real treat on Monday. The reigning and defending NWA Worlds Heavyweight Champion, Nick Aldis joined the classroom via Skype. In the past, Mr. Davis had been able to make connections with former NWA World Heavyweight Champions Ken Shamrock, Jeff Jarret, and a former 5-time WCW World Champion Booker T. to speak to his students. Each pro-wrestler talked about their choices in life and how their mistakes could have kept them from ever making it in pro-wrestling.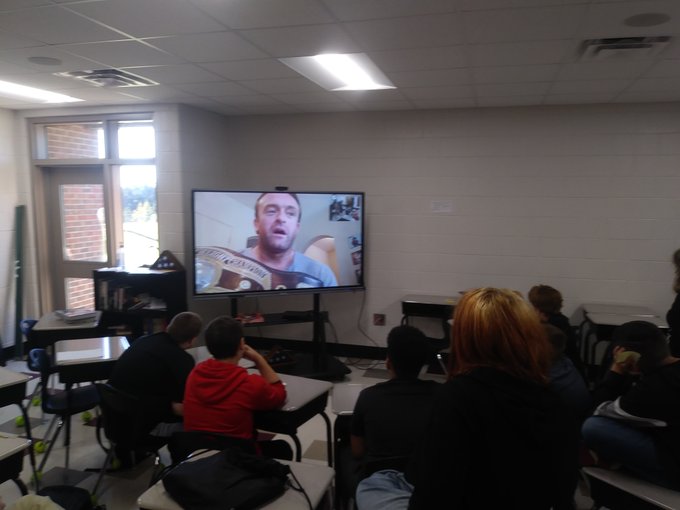 The Worlds Heavyweight Champion spent 45 minutes speaking with the kids and answering their questions. Mr. Davis was quite pleased with the champion's professionalism and enthusiasm. He was one hundred percent first-class all the way. [He] took time to talk with all the kids, answered every question to where the kids understood." "[Aldis] gave a tremendous message about doing things right and not taking shortcuts," said Mr. David After the chat with the champion, Aldis informed the kids they would be invited to the television tapings as Aldis' personal guests.
At the NWA Press Conference on September 30th, the owner of the National Wrestling Alliance and President Billy Corgan expressed interest in more community outreach. NWAPOWERRR airs on YouTube every Tuesday at 6:05 Eastern. The NWA's first Pay Per View from the Georgia Public Broadcasting Studios Into The Fire will take place on December 14th available on FITE. This also marks the third pay per view of 2019, including New Years Clash and the Crockett Cup Tournament.