Scorpio Sky: Fifth Entrant into the Revival NWA World Jr. Tournament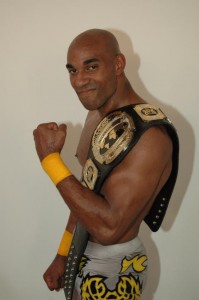 NWA "Revival": Eight men for the NWA World Jr. Heavyweight Title, Oct. 7, 2011, Metrolina Expo in Charlotte, NC. Entrant number 5: Reigning NWA Hollywood International Television Champion Scorpio Sky. See the Video here
Conditioning. You will probably not find a more finer tuned athlete than Scorpio Sky. And a tournament for the World Junior Heavyweight Championship is exactly up his alley. It was at the finale of NWA Pro/AWS Record Breaking 159 Person Battle Royal that spanned three rings, "The King of Sting" out lasted all the competition. Sky started off the New Year by winning the NWA Pro/Mach-1 Junior Heavyweight Tournament
"New Year's Cup"
out lasting some of the top Junior Heavyweights in Southern California.
Photos from the event can be seen here
. Scorpio Sky also competed in NWA Pro/Mach-1's 2nd Tournament of the Year, and won his second tournament for NWA Championship Wrestling from Hollywood "Becoming The Star" and winning the International Television Championship. However, Sky isn't just an accomplished wrestler, he just
competed in his first MMA Fight,
scoring the victory via TKO while Sky was doing the ground and pound. Sky's list of achievements can go all day long. But on October 7th, in NWA Country, Scorpio Sky will join the likes of Kevin Douglas, Chase Owens, Tony Kozina, and Mike Posey in an effort to crown the New NWA Worlds Junior Heavyweight Championship.