Pro Wrestling Revolution: Nov. 8th Card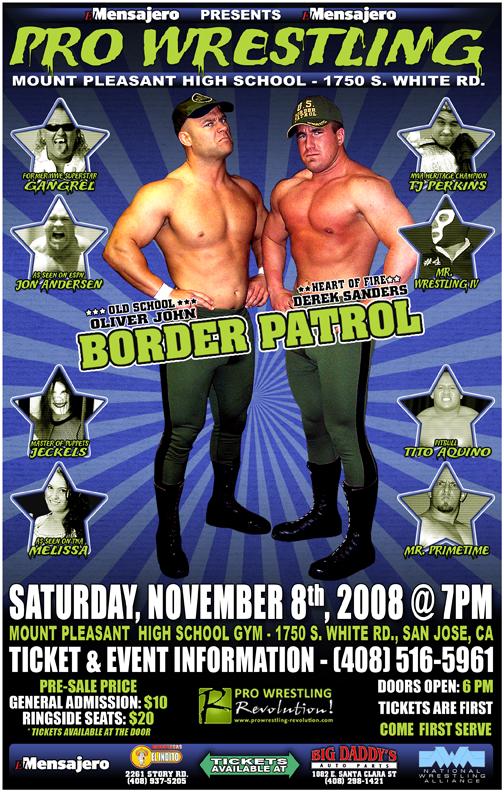 NWA Pro/Pro Wrestling Revolution makes it return to San Jose California. On this historic night a new champion heavyweight champion is crowned, the reigning tag champs defend their titles, and the Heritage Championship gets its first defense in Northern California.
The main event sees "Los Misterios" Rey Misterio and Hijo De Rey Misterio battle the nearious "Border Patrol" Derek Sanders and Nathan Rulez. Since May the Boarder Patrol have launched a campaign to regain the tag titles from Los Misterios. Fellow Border Patrol member Oliver John has his shot at becoming Heavyweight Champion when he faces "Vampire Warrior" the former WWE wrestler known as Gangrel, in a decions match for the Pro Wrestling Revolution Heavyweight Champ. We will also see the debut of the NWA Heritage Champion in Northern California. TJ Perkins puts his championship on the line as he battles MPT, Mr. Wrestling IV., and Michael Modest. All 4 of these men are capable of walking away with this championship. Perkins has his work cut out ahead of him.
Also on the card; Yyon Nakano vs. Cheerleader Melissa, a six man tag team match, a minis match a tag team match, and the return of the "Strong Man" Jon Anderson