Pro Wrestling Revolution, Hinton Oklahoma May 5th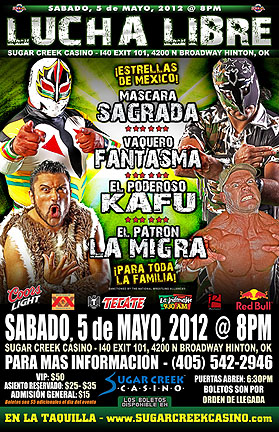 Pro Wrestling Revolution is proud to announce that we have come to an agreement with the Sugar Creek Casino in Hinton, Oklahoma. We are schedule to come to town on May 5th , 2012 and bring Lucha Libre to town.
We look forward to expanding our brand, providing top tier entertainment and making new fans. We will have more details as we get closer to the date of the event.
Sugar Creek Casino is rapidly growing as a Premier Entertainment Destination in Western Oklahoma. Featuring your Favorite Hottest Slots, All-you-can-eat Route 66 Buffet, the Refreshing Route 66 Roadhouse Café, Winning Times Sports Bar; One of the Best Little Sports Bar in the West and the Sugar Creek Event Center this Indoor Climate Controlled facility has featured entertainment from Multiple Sell Out Cage Fights to Legendary Award Winning Entertainers. Sugar Creek Casino is an Enterprise of the Wichita and Affiliated Tribes.
LUCHA ESTELLAR
Vaquero Fantasma vs. Mascara Sagrada
LUCHA DE LUJO
"El Parton" Oliver John vs. "El Poderso" KAFU
SPECIAL ATTRACTION
The Canadian Red Devil & "Prime Time" Brandon Walker
vs
"The New Era" Richie Adams & Goldeneye
"Border Patrol" Derek Sanders vs. El Dinamita
El Cazador del Almaz vs. El Mariachi