Pro Wrestling Revolution debuts in the city of Los Banos!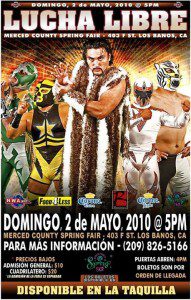 Pro Wrestling Revolution makes its debut in the city of Los Banos for the Merced Spring Fair. We are excited to be coming to the fair and deliver an entraining show. We have a solid show planned with two titles matches with the minis from Mexico's CMLL, Pequeno Pierroth and Mascarita Dorada. We are very excited that our first student from our school will make his debut on this show, and we are exited for him, maybe more than he is for his match. El Cazador…
We look forward to seeing all our fans and making new ones! So come out to the Merced Spring Fair, bring the family, enjoy the atmosphere, rides and end the night with Pro Wrestling Revolution!
We will see you at the matches!
MINIS MATCH
Mascarita Dorada vs Pequeno Pierroth
NWA HERITAGE TTLE MATCH
"El Gran" Kafu vs. Oliver John
PRO WRESTLING REVOLUTION TAG TITLES
Derek Sanders & Brian Cage vs. Latin Explosion
Mr Wrestling IV & El Cupacabras vs. Vaquero Fantasma & Rik Luxury
El Cazador vs. Rey Tigre