NWA Vendetta Pro Wrestling "Vendettaversary 2015″ in Santa Maria, Ca
Vendetta Pro Wrestling returns to the Elks Unocal Event Center in Santa Maria, California for Vendettaversary!
Vendetta Pro Heavyweight Championship:
Little Cholo (c) vs "The Butcher" Tyler Bateman
Multi Tag Team Championship (5 Championships on the line from Vendetta Pro, APW, Apex Pro, PCW & FCW-LA..One team will unify all championships):
The Ballard Bros (Shannon & Shane) vs The Von Dooms (Cyanide & Vintage Dragon) vs Classic Connection (Buddy Royal & Levi Shapiro)
NWA Vendetta Pro Tri-Force Championship: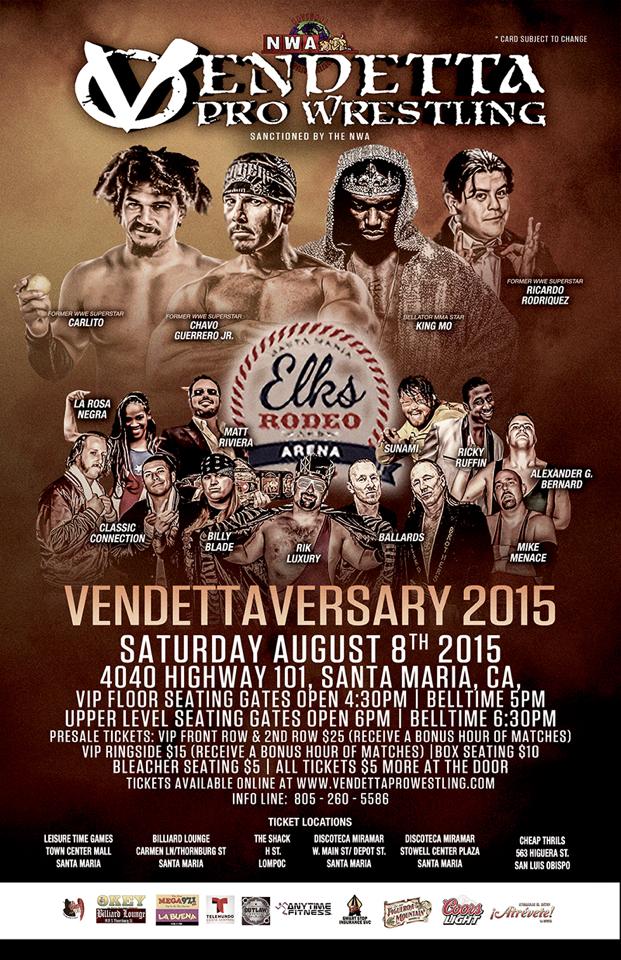 Jeckles the Jester (c) vs Sunami vs El Chupacabra
NWA Western States Championship:
Matt Riviera  vs Former WWE Star Carlito Colon
Former WWE star Ricardo Rodriguez vs Former WCW/WWE & Current Lucha Underground Star Chavo Guerrero Jr
Hair vs Hair Match-(Special Enforcer Bellator MMA fighter, former Strikeforce Light Heavyweight Champion Muhammed "King Mo" Lawal):
Rik Luxury (w/Thunder Rosa) vs "Rock of Love" Billy Blade
Mike Rayne vs Mike Menace
"The Golden Boy" Dylan Drake vs Mariachi Loco
El Ridiculoso & Laura Palmer vs "Rock-n" Richie Slade & Tab Jackson
The Central Coast's Original
Proudly based in Santa Maria, California.
Sanctioned by NWA Wrestling, the National Wrestling Alliance.