NWA Showcase: It's finally here!!!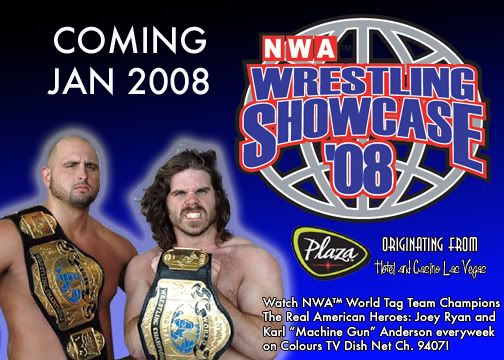 Its so close I can taste it. I know there has been a ton of blood, sweat, and tears poured into this project by David Marquez and company to make this a reality. I am so excited to see this project come to light. And the talent announced so far is nothing short of jaw dropping. The short list is… Nicho el Millonario (Psicosis), "El Exotico" Cassandro, "Ironman" Rob Conway, NWA World Champion: "Scrap Iron" Adam Pearce, NWA World Tag Champs: The Real American Heroes, NWA Womens Champion: Amazing Kong, NWA National Champion: Pepper Parks, Los Luchas, The Young Bucks, TJ Perkins, Al Katrazz, plus more to be announced…
The first set of talent is as follows for the 1st set of Las Vegas Colours TV tapings at the Plaza Hotel and Casino on January 18. I know the first few shows, on CoLours, will feature some previously taped matches, kind of as an (re)introduction to the NWA. Again the show will be made available on CoLours, channel 9407 on Dish Network (no air date has been released yet) and on-line by streaming via CoLours TV Website.