NWA Pro's Pro Wrestling Revolution Celebrates Blue Demon Jr.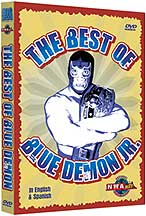 Lucha libre legend Blue Demon, Jr. stormed the NWA and became the first masked and first Mexican wrestler ever to win the NWA Worlds Title. Now, fans can relive over two hours of the best of Demon's matches in the NWA plus a legendary bonus match as Blue Demon, Jr. and Hijo Del Santo go one on one.
One of the matches that Pro Wrestling Revolution shares great interest in is the match up with our Heavyweight Champion Oliver John from the Border Patrol.
We are very excited to be a part of such a special DVD and encourage all wrestling and lucha libra fans to purchase the DVD. You can pick up the DVD from Big Vision Entertainment here.
Blue Demon Jr. is no stranger to Pro Wrestling Revolution and you can see him in action on these following dates.
* San Francisco, June 6th
* Santa Maria, June 26th
* Bakersfield, June 27th
* Stockton, July 25th
* King City, August 1st