NWA Pro/PWR International Vendetta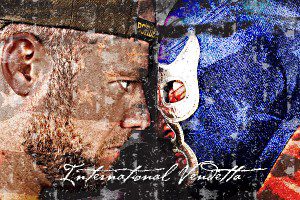 Pro Wrestling Revolution Heavyweight Champion "El Patron' Oliver John and former NWA World Heavyweight Champion Blue Demon Jr. have come to a point where things are going to change for both men, in their own way.
Oliver John seems to believe that he has nothing left with Blue Demon Jr., now that he is not the NWA World Champion, and even seems to be changing his tone in how he sees pro wrestling as a whole. Many believe the 2 year feud has caused Oliver John many issues, but nobody can be sure but Oliver John himself.
Blue Demon Jr. is on the complete opposite side as he now wants Oliver John to come meet him in Mexico and show him how it feels to wrestle on visiting grounds. Blue Demon Jr. entered this battle as the NWA World Champion, but at this point, many have asked the question… Is Blue Demon Jr. after Oliver John, or is he after the Pro Wrestling Revolution Heavyweight Title?
Where will this take both men, only time will tell. Below you can see and hear the feelings that both men have.
Credit Pro Wrestling Revolution