NWA Pro Wrestling Revolution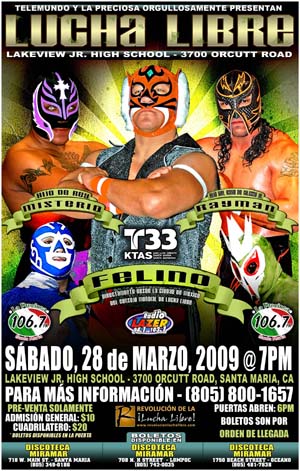 Pro Wrestling Revolution is pleased to announce our return the birthplace of the "Revolution"… Santa Maria! In the excitement of returning to a new venue, we are making come moves and having some Lucha Libre names coming in to make this a fantastic "Welcome Home" party. This show will have a little bit of everything in-stored.
Making his debut from Mexico City, he comes from a long line of wrestlers that all come from one family, he comes from CMLL, he is Felino! Coming along with him is, Hijo del Rayo de Jalisco Jr – Rayman, Hijo de Rey Misterio, Hurracan Ramirez Jr, Chubacabra. WOW! Add all that to the great roster already in hand, you have the makings of great night and we can't wait!
Felino & El Chupacabra
vs.
Hijo de Rey Misterio & Hijo del Ray de Jalisco Jr – RAYMAN
Oliver John vs. Tito Aquino
Vaquero Fantasma vs. Hurracan Ramirez Jr.
"Border Patrol" Derek Sanders & Zach Reeb
vs.
"Latin Explosion" El Amante & Ulysses
NWA HERITAGE TITLE MATCH
Mr. Wrestling IV vs. Ryan Taylor
Rock of Love
vs.
The Cutler Brothers
Rik Luxury vs. Shinobi
"Strongman" Jon Andersen vs. "Polyester Express" Dave Dutra