NWA Pro Wrestling Revolution presents Lucha Mania!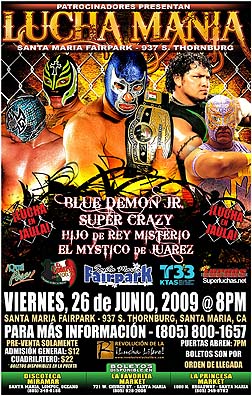 Credit Pro Wrestling Revolution
Santa Maria has had its share of big shows from Pro Wrestling Revolution, but this show has it the maximum it can take. We started at Santa Maria High School, headed over to Orchid and now we are taking it to the Santa Maria Fair Park, where all the major events take place. The fans have come to know exactly who we are and what we have to offer. We bring you to Santa Maria… Lucha Mania!
The feud with the Border Patrol team of Zach Reeb & Derek Sanders and El Hijo de Rey Misterio has come to a head and this show will decide and fill the vacancy of the Pro Wrestling Revolution tag titles.
This brings us to the match up of two people, athletes, wrestlers, who flat out do not like each other and nothing seems to be able to get them to move past their differences. Pro Wrestling Revolution Heavyweight Champion and NWA World Heavyweight Champion Blue Demon Jr. will face off, again… and this time in a cage match. Nobody knows what can happen and what will take place, and we can only hope that this will solve their issues.
We encourage all our fans to come out and witness history in the making!