NWA New Beginnings presents: 3 Way for the NWA World Heavyweight Championship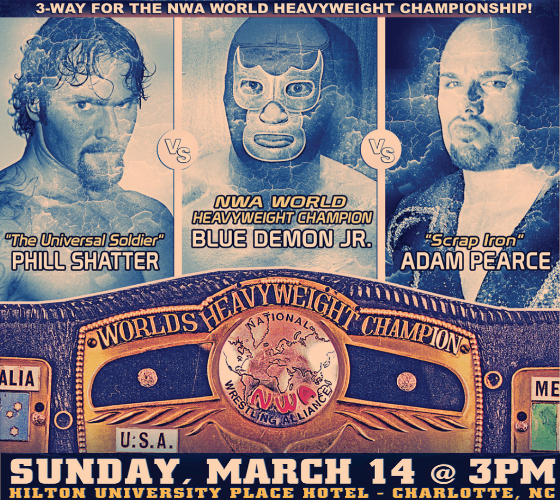 UPDATE: 3-Way For The NWA World Championship March 14th!
CHARLOTTE, NC — February 19, 2010 — With a clean pin over Adam Pearce on Valentine's Day in Charlotte, Phill Shatter secured his spot as Number One contender for the NWA World title. Pearce also maintains he's never received his rematch since losing the belt to Blue Demon Jr. in 2008. So to resolve all the outstanding issues — once and for all — our main event on Sunday afternoon, March 14 in Charlotte will now be a 3-way elimination for the NWA World Championship: Blue Demon Jr. vs. Phill Shatter vs. Adam Pearce! Three men will enter, but only one will leave victorious — the undisputed NWA World Heavyweight champ!