New Worlds Heavyweight Champion
A New Worlds Heavyweight Champion — a phrase that hasn't been uttered in over 330 days.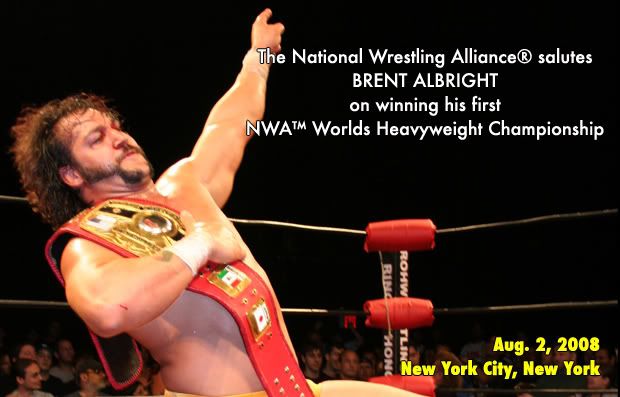 The last time those words were spoken, they had to be translated from Spanish to English. The last time that phrase was spoken, the same two competitors: Adam Pearce and Brent Albright were battling for the legendary 10lbs. of gold in front of a sell out crowd in Puerto Rico. That night saw the Scrap Iron bested the Shooter. Last night it wasn't the case.
For the first time in New York, the Worlds title changed hands. But the journey that landed Albright for this quest was a long winding road. Wrestling in the short lived Pro Wrestling Iron, trips to Pro Wrestling NOAH, a tenure in Ohio Valley where he was the 1st wrestler to hold of 3 titles of the promotion. Many were not sure what to think when his cup of coffee was finished with the WWE, but Albright bounced back debuting for Ring of Honor. Where the friendship of Albright and Pearce manifested into the Hangmen 3. Albright and Pearce's friendship ultimately ended when Pearce won the Worlds title in Puerto Rico. And nearly 1 year later, Albright fulfilled his promise to win the Championship.
And now Albright's future holds an open challenge in Chicago, Illinois on
August 15. No one has accepted the open challenge. But everyone at the Alliance would like to congratulate the New Champion on his victory.