New NWA World Mini Champion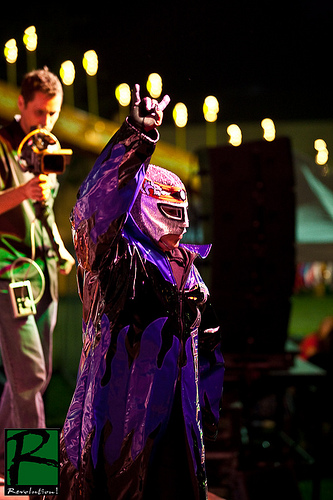 Credit Pro Wrestling Revolution
Pro Wrestling Revolution made its debut in Watsonville at the Santa Cruz County Fairgrounds and we are thankful for the opportunity and nothing can compare the great feeling we all had as we started the show and just did not want to end. It was a perfect setting, diverse crowd, and anxious for something new, and they got just that.
Every match was special and had its moments, but two matches will stick with me for quite some time. The match with Mr. Wrestling IV and Derek Sanders was a match that you wish that more wrestlers would take notice. The crowd loved Mr. Wrestling IV and hated Derek Sanders, and regardless of the language barrier, you knew who was the favorite, then went out put on a wrestling clinic and entertained the crowd, all in one.
Octagoncito was a part of Pro Wrestling Revolution's debut show in San Jose, California in 2008, so what a touching moment to seeing him crowed the Pro Wrestling Revolution/ NWA World's Mini Champion, first champion in that category in 50 years! We are proud having him as our champion and representing our company around the world, yes… the world!