MWR- Alliance Wrestling's quick hits with artist Rob Schamberger.
I am joined with us today one of my favorite people that I have met in wrestling, artist Rob Schamberger. Rob and I first got to know each other over a year ago when he was kind enough to draw artwork for the pro wrestlers in our hype pieces for our MWR Trading card series. During that time fans were thrilled to see his renditions of world name stars in the U-Gen Dinsmore and DX member Road DOGG BG James as well as some of the top men and women in the Midwest today such as Stacey O'Brien, Brian Breaker and Billy McNeil.
Yet the best was to still to come when he decided to start a KICKSTARTER project with the goal to raise $20,000 with the proceeds to go towards painting every world champion to date. With the success of making that goal happen Rob has since became the premier artist in pro wrestling today.
I am thrilled to bring you this interview for Alliance Wrestling.com in hopes that you will see first hand the talent of the one and only Rob Schamberger.
Rob, first off congratulations on all of your success, I must say that sometimes good guys do finish first. We are going to start off with the simplest of all questions. I know that you have a passion for the sport as does your mother Dee and lovely wife Katy. When did you first realize that you were a fan of pro wrestling and who were your influences?
Rob– I didn't get into wrestling until I was 18. I was at my parents' house doing laundry, and my step-father turned the channel to WCW Nitro where Ric Flair was doing a promo, and man, I was hooked. So, the next week I try to find it again and luckily landed on Raw instead, and got sucked right into the quality of the matches they had going around 1998.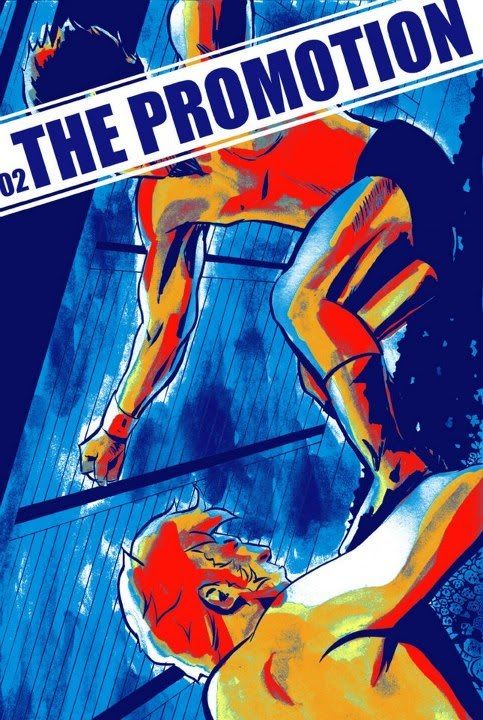 Brian – While you have found success in the sport of wrestling with the Kickstarter promotion, you also have drawn a wrestling comic called the Promotion as well as other graphic novels. Please share with us some of your highlights and reflections of your work in the art field before the Kickstarter success.
Rob– I wanted to do comic books since I was about 7 years old, when my older step-brother bought me my first comic and we spent the weekend re-drawing everything in it. I worked professionally in comics and illustration for about 15 years and then transitioned into the fine art scene.
Brian- Today you are busy drawing each and every WORLD Champion. We know that you have several NWA World Champions already with the likes of Harley Race, Jack Brisco and Colt Cabana, what are all the promotions that you consider in this category ?
Rob– I'm including all of the major US promotions, so that's: NWA, WWWF/WWF/WWE, WCW, AWA, WWA, ECW, USWA, ROH and TNA. No slight to any other promotions, this is just where I've started. That's about 230 different wrestlers I'll be painting!
Brian– As of today there are several World Champions in the NWA that you will have to draw, names such as Dusty Rhodes, Giant Baba, and Lou Thesz. What, if any are the pressures and pitfalls that come to paint these wrestling greats from all the way to Japan to the USA?
Rob– The pressure is that I want every painting to be special to that wrestler, his persona, his career, and most importantly to his fans. I also push myself to make every painting look as different as possible, while still having them all be obviously by me.
Brian – You have already made an impact in Iowa as you were a special guest artist of the town of Humboldt, Iowa on the fourth of July when they honored the wrestling great Frank Gotch. What was that experience like for you as Gotch is considered by many to be a legend among legends?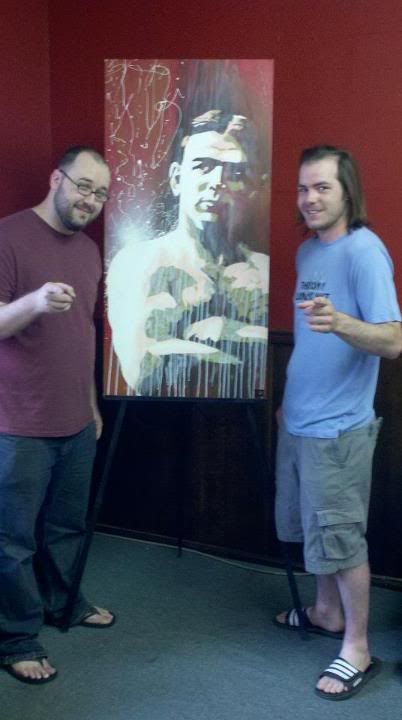 Rob – This was hands-down the best experience I've had with this project. Kate Sayers with the Humboldt Area Arts Council was a dream to work with and made me feel like an A-list celebrity. This was the first public showing of my Wrestling Champions paintings, and to have it partnered with the unveiling of such an amazing statue of Frank Gotch was a true honor. It was humbling to see how a wrestler can still have such an impact on a town so long after his passing.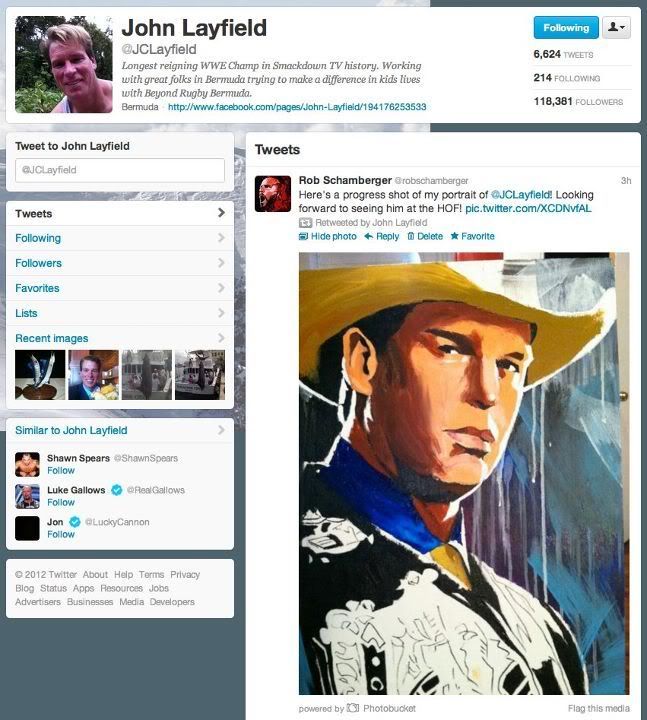 Brian– You returned to Iowa for the National Wrestling Hall of Fame Dan Gable Museum. The Hall of fame is truly one of the most underrated places in the country for pro wrestling. What greats were there this year and what surprised you most about the museum and the weekend festivities.
Rob– This was my first trip there and I had an amazing time. Kyle with the museum was a gracious host and an organized, well, organizer. I was floored to have the honor of spending time with legends like Mad Dog Vachon, Baron Von Raschke, Larry 'The Axe' Hennig, Dan Gable, and Danny Hodge. On the day of the festivities, I was even more honored to spend time with inductees like Dan Severn and John Layfield. I shared a signing table with JBL and Gerald Brisco and also got to chat a bit with Jim Ross! All of them put me and my art over with the crowd, which was something they didn't have to do, but meant so much more that they still did.
Brian– Your time in the NWA has not always been full of smiles. Earlier this summer you found yourself in the crossfires of the now current NWA World Champion Adam Pearce in the middles of the ring at the MWR Promotion of the Year Metro Pro Wrestling. In what was meant to be a night that was filled with love for local legend Michael Strider, MWR and Metro Pro Wrestling gave each fan a Michael Strider trading card and you painted an awesome portrait of Strider to honor his last match against Pearce. At the time Pearce was not the champion as Cabana has defeated him thus leading us into the Seven Levels of Hate Series. During the presentation Pearce took exception of the honoring ceremony. Please tell the fans what was going through your head when Pearce took your painting and slammed it over the head of Strider?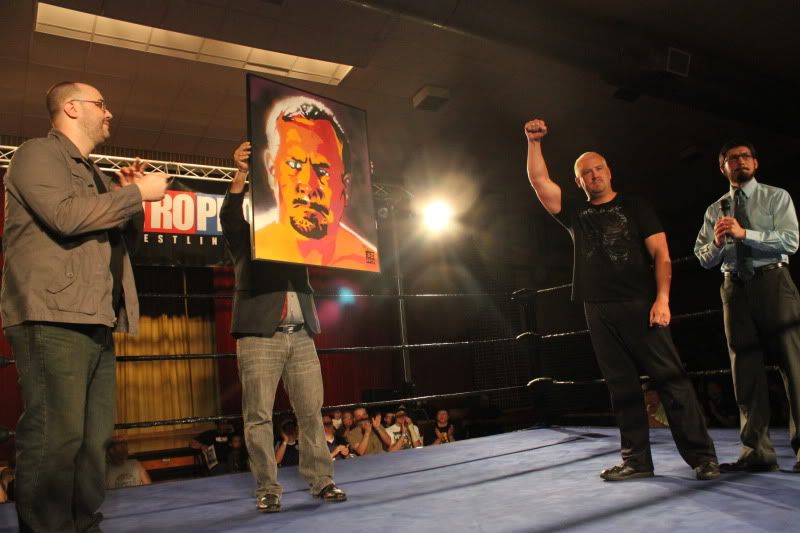 Rob– Well, I don't want to ruin anything for people, but obviously I knew ahead of time that Pearce would be coming out to confront Strider during this segment. These guys are professionals and they let me know the confrontation would happen so that I could safely get out of the ring. I was doing my best to honor Michael Strider with this painting that I had spent a couple of months on. But out comes Pearce, and I don't know, some sort of Jekyll/Hyde thing happened to him and there was murder in the man's eyes.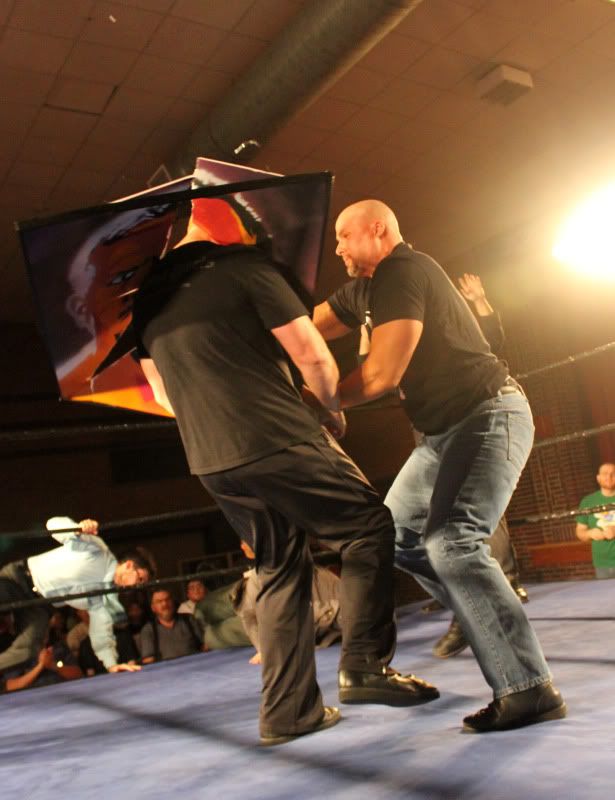 I bailed, and then I hear this loud sound and a crazy crowd reaction. I turn back around and there's my painting in shards with the frame hanging around Strider's head! Pearce had gone on a rampage and actually destroyed the painting! The promoter and Strider apologized to me later, and all that Pearce did was laugh and say "Them's the breaks, kid." Lesson learned: Anything and everything can and will happen in that ring.
Brian– To this day you still take the time to support local wrestling and the NWA by doing artwork for local NWA stars such as Jeremy Wyatt and Bull Schmitt. What has been the impact of the support of the fans as well as the promoters and wrestlers in the Midwest to an artist like you?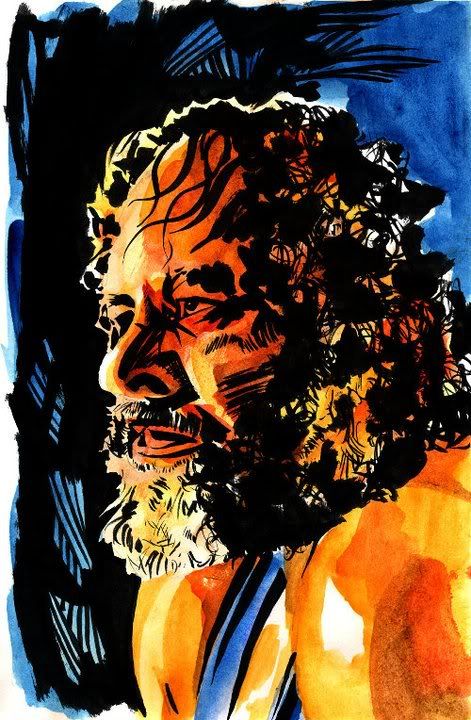 Rob- This is what gave me my legitimacy when I started the project. It was the support of the locals like Wyatt and Strider who got the attention of the NWA World Champion Adam Pearce (back when he was an appreciator of art and not a destroyer of art!). Once Adam started publicly supporting me, things snow-balled to the level I'm at now. More importantly though, it's the fans who are supporting me with their very hard-earned money and word-of-mouth that keeps this alive. The coolest part of this is when a fan comes up and tells me a close and personal story about why this or that wrestler had such an impact on their lives.
Brian– You recently painted former NWA World Champion Blue Demon. What would you say was your inspiration for his artwork as he is not among the household names throughout the US as is Sting or Ric Flair?
Rob– With his portrait (debuting August 25th at 'The HeART of Lucha' in San Diego, CA!) I wanted to create a mood of power and potential energy that is about to be totally kinetic. I was also influenced by traditional Mexican portraiture that uses a lot of blacks and darker tones. That goes back to what I was saying earlier about making the paintings very authentic to the wrestler and his persona.
Editors Note: For the Alliance Wrestling fans in California the info to see the new Blue Demon portrait on Aug 25th 5-10pm all ages Over 100 artists – it features the largest LUCHA LIBRE art exhibition in California
619) 453-1076
Brian- Out of all the NWA World Champions who among them gets the most requests for artwork from your fans?
Rob– Sting, easily. Since I'm in my heel persona right now, that probably means I won't do that portrait until last!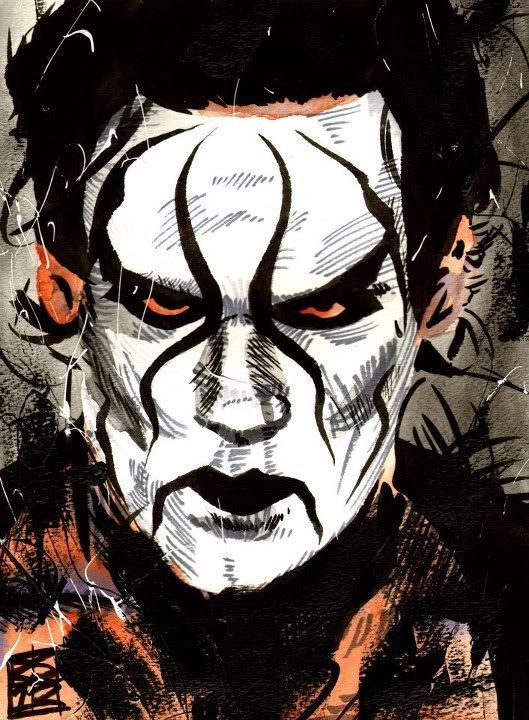 Brian– I have to ask you as I get asked about this all the time, are you going to do Tag Teams when this project is done?
Rob– Maybe? I don't know. I've still got about 200 paintings to do. I may want to paint some half-naked ladies again after all of this testosterone!
Brian– Please take the time to plug for us what you have coming up in the next few months, how fans can purchase your artwork or where they can send in fan mail?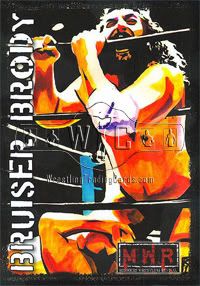 To purchase these 3 cards or any of the 89 cards in the MWR Trading card set click here.
Rob– You can always find me at Metro Pro Wrestling every month, where I have some paintings on display along with prints and other goodies. I'll be appearing at other independent shows in the near future too, because I love interacting with the fans. You can find me online at facebook.com/robschamberger, on Twitter as @robschamberger, and on my website at robschamberger.com, where I have a store as well as my rates for commissions.
Also, please include this: None of this would have taken off like it did without you, Mr. Brian Kelley. You did me the great favor of personally introducing me to so many people and spreading word about what I'm doing on MWR. You're one of the best guys I've met in the business, and there's a line of people that would wrap around a few city blocks who would say the same thing