Details on how you can sponsor Harley Race on his way to the Missouri Sports Hall of Fame.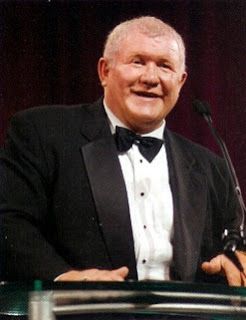 If you would like to sponsor an add for the 8-times NWA World Heavyweight Champion Harley Race The Missouri Sports Hall of Fame has sent us the attached information . Check out the sales sheet that provides details regarding the Enshrinement from Craig Winegar.
On the front side of the sheet, you will find the date, times and locations of the various events associated with the Enshrinement. Also listed are the various levels of sponsorships that are available, advertising opportunities and ticket pricing. On the back of the sheet, all of the members of the Class of 2013 are listed. As you will see, this is a very impressive class! I have also attached a second sheet that contains the ad specs for the calendar and the program. Our ad deadline for our printed program is Friday, January 11. We will also have at least one 20 page insert and that ad deadline will be on Friday, January 18.
In our program, each inductee and/or team will receive a full page devoted to describing their accomplishments during their playing/coaching careers along with several photos of the inductee during their playing days. Last year, our program was 122 pages and we also had a 16 page insert. Each inductee also receives one month in our 18 month calendar. On their page, they will have a short biography and one photo. There is an ad space of ¼ page for your company to have their logo and a brief description. Your logo will also appear at the bottom of each month of the calendar, for additional exposure. Each inductee will also have a trading card produced. On the front of the card will be an action photo of the inductee, another photo will appear on the back along with a brief description of their career highlights. On the lower front of each card, there is a space for your company logo to appear. I would very much like for you to consider placing a congratulatory ad in our program and if your schedule will allow, I would like for you to consider attending this wonderful event. Each ticket holder not only will attend the dinner and ceremony, but they are also invited to attend our afternoon reception at the Missouri Sports Hall of Fame.
This reception is from 11 until 1 and is presented by Meek's The Builders Choice. It is a come and go affair and a prime opportunity to mingle with all of the inductees while enjoying heavy hors d'oeuvres and beverages and exploring the Missouri Sports Hall of Fame and its 32,000 square foot museum.
The Missouri Sports Hall of Fame is a 501 (c) (3) not-for-profit organization. We receive no state funding and rely on acquiring corporate partners and private donations, from events such as our Enshrinement, to keep our museum doors open. Our January Enshrinement is our largest event of the year, both financially and in terms of attendance. We have averaged 1,500 people over the last 5 years at this event. Each individual ticket holder will receive a copy of the printed program and insert, a calendar and a set of trading cards. Therefore, your ad will be seen by over 1,500 people from across the state of Missouri.
If you should have any questions, please don't hesitate to contact me.
Thank you in advance for your time and your consideration to participate in our January Enshrinement. I look forward to hearing from you soon.