Crockett Cup Update – Nick Aldis' Tag Team Partner Revealed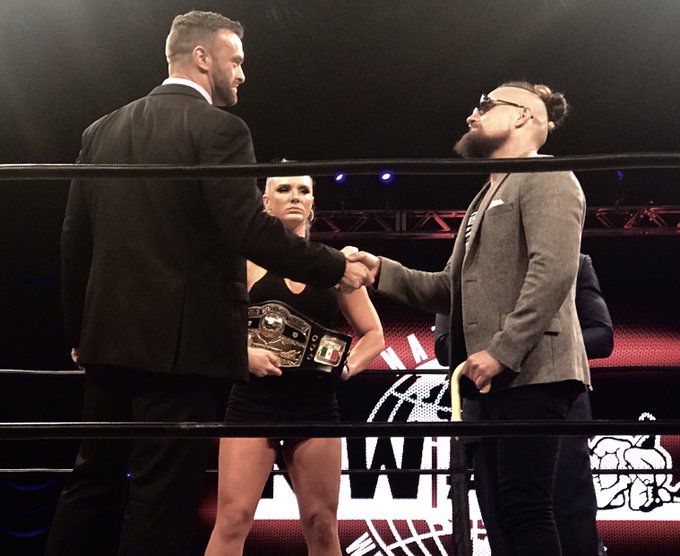 In Lakeland Florida, at Ring of Honor's TV Taping, Lifelong friends become opponents at Crockett Cup 2019. NWA Worlds Heavyweight Champion offered an opportunity for him and the "Villain" Marty Scurll to team together at the tag team tournament in April. Scurll counter offered with a title match.
At All In, Marty Scurll challenged Kazuchika Okada for the IWGP Heavyweight Championship. When seeking the advice of Nick Aldis, the NWA Champion told him "Eat Like A Man, Look Like A Man!" That was our first introduction to the friendship between them. Both were trained by Frank Rimer.
Although unsuccessful in his bid for IWGP Championship, Marty's stock has never been higher. With the departure of the members of the Elite, Ring of Honor has shinned an even brighter light on Marty has he's started his own trio "the Villain Enterprises."
For "the National Treasurer" this is another high caliber opponent for him to face. Aldis famously lost the NWA Worlds Championship at All In 2018, only to regain the title at the NWA 70th Anniversary. Aldis debated on the internet if he was going to defend his title or take part in the tournament. Defending the Worlds Championship was the norm for the tournament in 80s.
The Crockett Cup 2019 happens April 27th in Concord, North Carolina. Tag teams from ROH, NJPW, CMLL, and the NWA will battle to win the Jim Crockett Sr. Memorial Cup a tradition that dates back to 1986.
Tickets are on sale now https://www1.ticketmaster.com/event/2D0056458E281D27