Congrats to the new NWA Pro Wrestling Revolution Women Champion
Credit: Pro Wrestling Revolution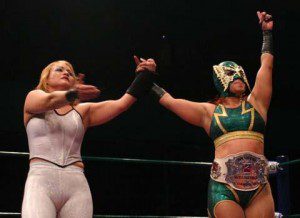 Pro Wrestling Revolution's Womans Title was defended and changed hands in Mexico at Arena Puebla for Consejo Mundial de Lucha Libre (CMLL). It is such an honor to have our title defended in this manner. We want to thank CMLL for allowing this to take place.
The match was between Lady Apache, champion, and Princesa Sugey. Lady Apache took the first fall and seemed on path a straight fall win when Sugey pulled off surprise fujiwara armbar to steal the second fall. Sugey's been doing that a lot lately. Sugey blocked a move on the top rope and landed on of her own to take the match. New Champion!
And if you listened to Tuesday's Episode of Alliance Radio with Gabe Ramirez, you heard first hand that there are plans to bring Princesa Sugey back to a Pro Wrestling Revolution ring to defend her championship. The question is, where will that Pro Wrestling Revolution ring be?