About Wrestling Fanatic
Author Archive | Wrestling Fanatic
American Wrestling Alliance TV Episode 001 featuring Reno Riggins, Rob Conway, Damien Wayne and many more greats
The Final Episode of NWA Smoky Mountain TV! See full events on the NWA Smoky Mountain Network at On Demand Content - https://nwasmokymtn.pivotshare.com/ Official Website - http://www.nwasmokymountain.com Official Facebook - http://www.facebook.com/nwasmokymtn Official Twitter - http://www.twitter.com/nwasmokymtn Official Instagram - http://www.instagram.com/nwasmokymtn
Don't miss NWA Smoky Mountain's final event on Saturday, August 19 in Kingsport, TN at the Civic Auditorium! See full events on the NWA Smoky Mountain Network at https://nwasmokymtn.pivotshare.com/
With the NECW 2017 Tag Team Classic just a few days away, once again tag team action is the focus of an all new edition of New England Championship Wrestling. Last week, we saw NECW Tag Team Champions, The Heavy Hitters battle #1 Contenders, Adrenaline Rush to a double count out. A rematch was scheduled [...]
With just under two weeks until the 2017 NECW Tag Team Classic, here is an all new episode of New England Championship Wrestling TV Online. On this edition, we look back at how Adrenaline Rush became the #1 contenders to the NECW Tag Team Championship. Then from there the NECW Tag Team Championship is on the line as Adrenaline [...]
From the NWA Smoky Mountain Wrestling facebook page earlier this afternoon, NWA Smoky Mountain posts some very cryptic message to its fans and talent. NWA Smoky Mountain 4 hrs · BREAKING - NWA Smoky Mountain: ReGenesis on August 19 in Kingsport, TN will be the final NWA Smoky Mountain event. More info will be available later.
From the desk of David Marquez, Championship Wrestling From Hollywood (CWFH) gains 111 new stations! Happy early birthday to me! 111 new stations! Please share this and help spread the word – Thanks you! CHAMPIONSHIP WRESTLING FROM HOLLYWOOD TO PREMIERE ON THE CW'S CW PLUS AFFILIATES SATURDAY, OCT. 7 HOLLYWOOD, CA (July 11, [...]
With just days before NECW's return to live action in Wakefield this Saturday night, July 15, we have an all new, fully loaded edition of New England Championship Wrestling TV Online now streaming here on YouTube. We begin with two debuting stars as 5 Star Jace managed by Honest Abe battles Kid Curry, the youngest [...]
As NECW gets ready to return to live action on Saturday night, July 15, we've got an all new edition of New England Championship Wrestling TV online now available for on demand viewing on YouTube. On this edition, Big Jym Anderson returns to see action, but this time he's in the employ of former NECW Television Champion "Sensational" Scott Levesque as his bodyguard. [...]
The Alliance Guys Podcast
Wrestling On-Line
American Wrestling Alliance – TV Episode 1
Advert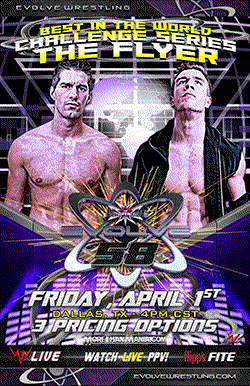 Subscribe / Connect
Subscribe to our e-mail newsletter to receive updates.
Archives